Discussion Starter
•
#1
•
This will not work on 2005 and up Burgman 650's. Only for 2002 thru 2004's.

Some may not know why the 2003-2004 650 diesel rattles more than the 2005 and up. Here are pictures of the Polish made adapter replacement. This is how Suzuki should have done it from the beginning and also how they should have made the change fro 2005 and up. If done early enough to the 2003-2004 it
may
make the CVT last longer. Sorry for the blury pic's but you can still get the idea. This adapter has about 160% more engagement in the splines.
This is the original adapter. Notice how the teeth are worn down and have sharp points? and at the bottom the teeth are not even used. BAD DESIGN!
This is the wear pattern that has caused all the issues on the 2002-2004's.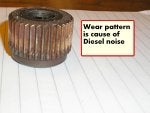 Here are the old junk and the new Polish adapter, at least 40% more teeth engagement
JUST
on the bottom part.
And about another 120% engagement added with the top part.
The Polish adapter kit with my old worn out piece of junk.
Here is the Ebay listing for the kit. It is well worth the $225 if you have a 2002-2004 Burgman 650.
http://www.ebay.com/itm/252248990678?_trksid=p2057872.m2749.l2649&ssPageName=STRK:MEBIDX:IT