Discussion Starter
•
#1
•
I was cleaning the scoot today, using my favorite stuff,
Plexus plastic cleaner
, and it occurred to me I had not seen it mentioned here--maybe everyone already knows about it?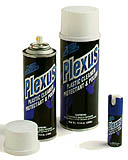 With the Burgman I squirt just about the whole bike with it at least once a month, the windscreen every couple days. If your instrument cluster lens has any scratches shoot some Plexus on a cloth and wipe it down--do this 2 or 3 times initially and you will be amazed by the result.
It's not cheap, currently $16 to $20 for the 13 oz aerosol, but that's enough for 1-1/2 to 2+ years for a single bike. To give you an idea, I paid $13 for the can I have; so far back I cannot remember and there's still a third of a can left. I have used it on marine windscreens and curtains for years.
Most bike shops stock it, I have no affiliation with them other than being a satisfied customer...