Discussion Starter
·
#1
·
Hello folks, name is Geoff. I am from Alliston, Ontario, a small but growing town that is about 40 minutes north of Toronto.
After riding various bikes for over 25 years, an injury to my left foot last year has left me unable (currently) to shift a bike properly. Last year, after many years of bugging her, my wife took lessons and got her motorcycle license. She chose a used 2007 Piaggio MP3 as her first ride. I have to admit, I has an absolute ball twisting and going when ever I hopped on her scoot.
So this spring, I was forced to sell my pride and joy; my 2003 Vulcan 1500 Nomad FI. It was bitter-sweet, but it sold very quickly for my asking price.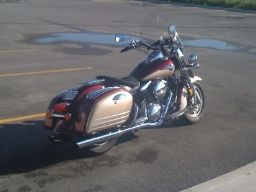 But, as you can probably surmise, I discovered the Burgman. This past weekend, I bought a nice 2005 Burgman 650 with only 9500km and in great shape overall, and I am VERY excited to pick it up in the coming days.
Every time I tell people about it, I say something about hopefully one day being able to shift gears and get a traditional motorcycle again. However, Burgman owners seem to ALWAYS say that I won't want to go back. I am really looking forward to testing that theory out.
See you out there!